Ad blocker interference detected!
Wikia is a free-to-use site that makes money from advertising. We have a modified experience for viewers using ad blockers

Wikia is not accessible if you've made further modifications. Remove the custom ad blocker rule(s) and the page will load as expected.
Introduction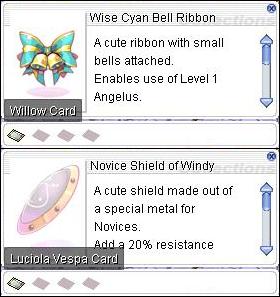 Cards, when slotted into equipments, will add a Prefix / Suffix to your weapon's name.
Equipments such as Armor & Footgear, which as only one slot, can have a maximum of 1 Prefix / Suffix.
On the other hand, Weapons, which can have more than one slot, can gain more than 1 Prefix / Suffix.
Card Prefix / Suffix are all pre-determined, meaning that the same card will always give the same Prefix / Suffix. ( No luck involved )
Below are lists of Cards & their Prefixes / Suffixes
All Suffixes start with "of".
Unless stated, everything else are Prefixes .
A

Abysmal Knight

Liberation

Agav

Panic

Alarm

Seeker's

Alice

of Royal Guard

Alicel

Swift

Aliot

Strange

Aliza

of Temptation

Alligator

Four Leaf Clover

Am Mut

Assassinator's

Ambernite

of Athena

Amon Ra [MVP]

Protective

Anacondaq

Envenom

Ancient Mimic

of Agility Switching

Ancient Mummy

Shining Cross

Ancient Worm

Witch Doctor's

Andre

Hurricane

Andre Egg

Excellent

Andre Larva

Smart

Angeling

Holy

Anolian

of Clarity

Anopheles

Of Value

Antonio

of Escape

Anubis

Satanic

Apocalipse

Prime

Arc Angeling

Miraculous

Archdam

of Paladin

Archer Skeleton

Kingbird

Arclouze

Magic-Proof

Argiope

Poisoning

Argos

Hypnotic

Armeyer Dinze

Stamina

Assassin Cross Eremes [MVP]

of Shadow

Assaulter

Killing

Aster

Starfish's

Atroce [MVP]

Beast

B

Baby Desert Wolf

of Desert

Baby Leopard

Lucky Fluke

Bacsojin [MVP]

Life Stream

Banshee

Mental

Bapho Jr.

of Rogue

Baphomet [MVP]

Scythe-like

Bathory

Evil

Beetle King

of Marine Soul Eater

Beholder

Magic Cancel

Berzebub [MVP]

of Bigmouth

Bigfoot

of Gargantua

Blazer

Rationing

Bloody Butterfly

Spell Flow

Bloody Knight

Meteoric

Bloody Murderer

Man-Eater's

Blue Acidus

Low Level

Bongun

of Knock-Back

Bow Guardian

Shaft

Breeze

Bleeding

Brilight

of Reticence

Byorgue

Exceed

C

Caramel

Insecticide

Carat

Maestro

Cat O' Nine Tails

Mirror

Caterpillar

of Plant Soul Eater

Cecil Damon

Rapid

Chepet

of Caress

Chimera

Venomous Charge

Choco

Elven-Enchanted

ChonChon

Light

Christmas Cookie

Fallen Angel's

Chung E

Cursed

Civil Servant

of Exorcism

Clock

Guardian's

Clock Tower Manager

of Torment

Cloud Hermit

Dark Sky

Coco

of Sandman

Condor

Quick

Cookie

of Chance

Cornutus

Immortal

Crab

of Cancer

Cramp

Greedy

Creamy

Teleport

Creamy Fear

of Mayhem

Cruiser (Official Effect)

Poaching

Cruiser (Custom Effect)

Instant

D

Dancing Dragon

Swift

Dark Frame

Solidifying

Dark Illusion

Spell Master's

Dark Lord [MVP]

of Doom

Dark Priest

Soul Draining

Deathword

Soul

Demon Pungus

Mesmerizing

Desert Wolf

Gigantic

Deviace

Aqua

Deviling

Deviant

Deviruchi

Adurate

Detale [MVP]

of Magic Shelter

Dimik

Weakening

Diabolic

of Demon Soul Eater

Disguise

Soundless

Dokebi

of Zephyrus

Doppelganger [MVP]

of Berserk

Dracula [MVP]

Spiritual

Dragon Egg

Drink

Dragon Fly

of Highlight

Dragon Tail

Bow-Master's

Drainliar

Saharic

Drake [MVP]

of Infinity

Driller

of Dragon Soul Eater

Drops

Dexterous

Drosera

Crane

Dryad

Green Stone

Dullahan

Fatal Serpentie

Dumpling Child

Sweet Scented

Dustiness

of Warmth

E

Earth Deleter

Soul Collector's

Earth Petite

Dragoon

Echio

Madness

Eclipse

Magic Resistant

Eddga [MVP]

Bearer's

Eggyra

of Witch

Egnigem Cenia

of Power Switching

Elder

Invasion

Elder Willow

Erudite

Enchanted Peach Tree

Rejuvenating

Eremes Guile

Assassin

Evil Druid

Deadly

Evil Nymph

Prodigy

Evil Snake Lord [MVP]

Curse Lift

Executioner

Anti-Large

Explosion

Dragon Slayer's

F

Fabre

Vital

Fallen Bishop Hibram [MVP]

Arrogant

False Angel

of Angel Soul Eater

Farmiliar

Blink

Female Thief Bug

Shrewd

Firelock Soldier / Antique Firelock

Superior

Flame Skull

Anathema

Flora

Fisher

Freezer

Sword-Master's

Frilldora

Guard

Frus

of Magic Mirror

G

Gajomart

Havoc Bringer's

Galapago

Sprightly

Galion

of Sharia

Gargoyle

of Serenity

Garm

Arctic

Garm Baby

of Frost

Gazeti

of Hail

Gemini S

--- of Stability

General Egingem Cenia [MVP]

of Regeneration

Geographer

Blessed

Ghostring

Ghost

Ghoul

Viper's

Giant Hornet

Yellow Stone

Giant Spider

of Venom

Giant Whisper

Mystic

Gibbet

of Magical Immunity

Giearth

Order

Gig

of Insect Soul Eater

Gloom Under Night [MVP]

Abyss

Goat

Spell-Proof

Goblin Archer

Piercing

Goblin

Clamorous

Goblin Leader

Deadly Goblin's

Goblin Steamrider

of Fatal Flame

Gold Acidus

Low Level

Golden Thief Bug [MVP]

of Deaf

Golem

Solid

Grand Peco

Anti-Magic

Greatest General

Mana Sphere

Green Ferus

of Wanderer

Green Iguana

Sweetie

Gremlin

Health

Grizzly

Sightless

Gryphon

Wind

Gullinbusti

Fisherman's

H

Harpy

Vicious

Heater

Evasion

Hell Poodle

Rabid

Hermit Plant

Refreshing

High Orc

of Retaliation

High Priest Magaleta [MVP]

Protection

High Wizard Kathryne [MVP]

of Tempest

Hill Wind

Sylph

Hode

Glorious

Hodremlin

Resistance

Holden

of Creator

Horn

Heavy

Hornet

Martyr

Horong

Clairvoyant

Howard Alt

en --- Heat

Hunter Fly

Malicious

Hydra

Bloody

Hydro (Hydrolancer)

Magic Eating

Hyegun

Hyper

Hylozoist

Polymorphic

I

Ice Titan

of Flaw

Incantation Samurai [MVP]

Bloodlust

Increase Soil

Charge

Incubus

Fatasm

Ifrit [MVP]

of Inferno

Imp

of Ignis

Injustice

Extending

Iron Fist

Veteran Hunter's

Isilla

Aria

Isis

Divine

J

Jakk

Flameguard

Joker

of Moonlight

K

Kaho

Underneath

Kapha

Magically Shielded

Karakasa

Terrorizing

Kasa

Stygian

Kathryne Keyron

of Caster

Kavach Icarus

Low Level

Khalitzburg

form Hell (Suffix)

Kiel

of Reload

Killer Mantis

Traumatic

Knight of Windstorm [MVP]

Storm-Bringer's

Knocker

Miner's

Kobold

of Counter

Kobold Archer

Deadly Plant's

Kobold Leader

Deadly Kobold's

Kraben

of Black Out

Ktullanux [MVP]

Jack Frost

Kukre

Athletic

L

Lady Tanee [MVP]

Manful

Laurell Weinder

Undine

Lava Golem

Crushing

Leaf Cat

Blue Stone

Leib Olmai

Red Stone

Li Me Meng Ryang

of Dawn

Lord Knight Seyren [MVP]

of Fury

Lord of Death [MVP]

Crucial

Lori Ruri

of the Stix

Lude

of Patience

Lunatic

Lucky

M

Magalith

Mystical Resistance

Magmaring

Scorching

Magnolia

Cursing

Male Thief Bug

of Hermes

Majoruros

Crippling

Mandragora

Windy

Mantis

of Muscle

Marc

Unfrozen

Marduk

Peerless

Margaretha

of Magic Sealing

Marina

Ice

Marine Sphere

Blast

Marionette

of Ghost

Marse

Genie's

Martin

of Cleric

Mastering

Lucky Streak

Matyr

Green

Maya [MVP]

Reflect

Maya Purple

of True Sight

Medusa

Plasterer's

Megalodon

Atomic

Memory of Thanatos [MVP]

Penetration

Merman

Dashing

Metaling

Disarm

Metaller

Silence

Mimic

Blue Cubic

Mineral

of Stone Wall

Mini Demon

Poacher's

Minorous

Titan

Mistress [MVP]

of Gemstone

Miyabi Doll

Energetic

Mobster

Aural

Moonlight Flower [MVP]

Hasty

Muka

Robust

Mummy

Ancient

Munak

Amulet

Muscipular

Solace

Mutant Dragonid

Blazing

Myst

Innoxious

Myst Case

Cubic

Mysteltainn

Anti-Small

N

Necromancer

Igonre

Neraid

of Beast Soul Eater

Nightmare

Insomniac

Nightmare Terror

of Jinx

Nine Tail

Deluxe

Noxious

Anti-Sniping

O

Obeaune

Cure

Observation

of Dexterity Switching

Obsidian

of Vital Switching

Orc Archer

Desirable

Orc Baby

Extra High Level

Orc Hero [MVP]

Neutral

Orc Lady

Smashing

Orc Lord [MVP]

Mirror

Orc Skeleton

Damned

Orc Warrior

Brutal

Orc Zombie

Angelic

Osiris [MVP]

of Eternity

Owl Baron

of Doubled Power

Owl Duke

Godly Wrath

P

Panzer Goblin

Fatally Evil

Parasite

Reinforced

Pasana

of Ifrit

Peco Peco

of Ares

Peco Peco Egg

Beholder

Penomena

Fire-Proof

Permeter

Anti-Evil

Pest

of Stone Curse

Pharaoh [MVP]

of Kirin

Phen

Under a Cast (Suffix)

Phendark

Soul Gain

Phreeoni [MVP]

Perfect

Picky Egg

Extra

Pirate Skeleton

Discount

Pitman

Gnome

Plankton

Drowsy

Plasma

Elemental

Poison Spore

Poison

Poisonous Toad

Shoving

Poporing

Detoxification

Porcellio

of Wildcat

Poring

Lucky

Punk

Bogie

Pupa

Hard

Q

Quve

aky

R

Rafflesia

Homer's

Ragged Zombie

Lunatic

Raggler

Strenuous

Raydric

Immune

Raydric Archer

of the Spooky Night

Red Ferus

Salamander

Red Novus

Chaotic

Remover

of Rejuvenation

Requium

Chaos

Retribution

Snack

Rideword

of Wisdom

Rocker

Skillful

Roda Frog

of Champion

Rotar Zairo

of Fatal Pisces

Roween

Breezy

RSX 0806 [MVP]

Mammoth

Rybio

Overpowering

S

Sage Worm

Magic Stone

Salamander

Nessus's

Sandman

of Gnome

Santa Poring

Hallowed

Sasquatch

Freezing

Savage

of Recovery

Savage Babe

Stun

Scorpion

Chemical

Scorpion King

Divine

Sea Otter

Ocean Scented

Seal

of the Soul

Seeker

Gorgon

Seyren Windsor

Lost-Power

Shell Fish

Shell

Shelter

of Intelligence Switching

Shinobi

Coward's

Sidewinder

Hybrid

Siroma

of Yana

Skeggiold

Twinkle

Skeleton

Keen

Skeleton General

Insect Collector's

Skeleton Prisoner

of Sleep

Skeleton Worker

Boned

Skogul

of Chaotic Bleeding

Sky Deleter

Slaughter

Sky Petite

of Dragoon

Sleeper

of Siesta

Smokie

Hiding

Snake / Boa

Untouchable

Sniper Cecil [MVP]

of Squeezing

Snowier

Sweet

Sohee

Soul-Enchanted

Solace

Divine Cross

Solider

Faithful

Solider Andre

of Cadi

Solider Skeleton

Critical

Spore

of Spore

Spring Rabbit

Roast Scented

Stainer

of Aristotle

Stalactic Golem

Stun-Proof

Stapo

Stony

Steel Chonchon

of He-Man

Stem Worm

Monsoon

Sting

Supreme

Stone Shooter

Slingshot

Strouf

Decussate

Succubus

Nightmarish

Swordfish

Aqua

Sword Guardian

Force

T

Tamruan

Shield Master's

Tarou

Double-Forced

Tao Gunka [MVP]

High Risk

Teddy Bear

of Requiem

Tengu

of Reservoir

Memory of Thanatos [MVP]

Penetration

Thanatos Despero

Stupidity

Thanatos Dolor

Darkness

Thanatos Maero

Slug

Thanatos Odium

Dull

Thara Frog

Cranial

The Paper

Slicing

Thief Bug

Speedy

Thief Bug Egg

Rigid

Tirfing

Anti-Medium

Toad

King's

Tri Joint

Power Draining

Turtle General [MVP]

Explosive

U

Ungoliant

of Vitality

V

Vadon

Flammable

Vagabond Wolf

Werewolf

Valkyrie Randgris [MVP]

of Elimination

Vanberk

Shrewd

Venatu

of Luck Switching

Venomous

Chaotic Venom

Verit

Fledged

Vesper [MVP]

of Visionary

Violy

Fiddler's

Vitata

Healing

Vocal

Virtuoso's

W

Wanderer

Pressure

Waste Stove

of Talent

Whisper

Mocking

Whitesmith Howard [MVP]

of Hollgren

Wikebine Tres

Gangster

Wild Rose

Wing

Willow

Wise

Wind Ghost

Thunderbolt

Wolf

Wolverine

Wooden Golem

of Nature

Wootan Fighter

Bleed Resistant

Wootan Shooter

Confusion Resistant

Wormtail

Clever

Wraith

of Last Laugh

Wraith Dead

of Misfortune

X

Nil

-

Y

Yellow Novus

of Scholar

Yoyo

of Flash

Z

Zenorc

Venomer's

Zerom

Nimble

Zherlthsh

Dominatrix

Zipper Bear

Diligent

Zombie

of Health

Zombie Master

of Undead Soul Eater

Zombie Prisoner

Undead Killer's

Zombie Slaughter

Outrageous
---